When you have patio doors installed in your home, there's a good chance you may feel it's a bit plain to look at. If so, there are actually numerous ways to get around this and one of the most effective methods of doing so is by adding curtains.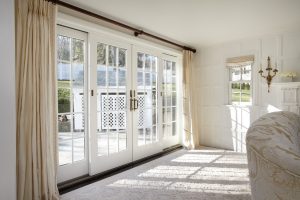 In this post, window installation company Renewal by Andersen® of Rapid City gives you a step-by-step guide to properly decorating your patio door with curtains.
Be Practical
When it comes to decorating your patio door with curtains, you can make things easier for you by being practical with it. For instance, you can attach a curtain rod to the top and bottom of the door and slide a curtain over the rods to keep them from being caught in the doorway when opening it. You can also install a traverse curtain rod if you have sliding doors that you frequently use or add drapery hardware that can easily slide open like metal curtain rings.
Create Privacy
If you want a certain degree of privacy, on the other hand, keep that in mind when selecting your curtains. Lightweight transparent treatments such as sheer curtains can provide limited privacy and allow natural light to enter your home. Fabrics such as denim, tapestry, or suede, meanwhile, can deliver enhanced privacy but can easily catch dust. If you're having difficulties with decorating your patio door, consider approaching replacement window contractor, Renewal by Andersen of Rapid City, for advice.
Embellishments
To add a decorative touch to your curtains, you can add accessories to personalize them according to your tastes. Colorful tassels, fabric braids, ribbons, or even beads can help generate aesthetic and visual interests for your household members and guests.
Turn to Renewal by Andersen of Rapid City for your home improvement needs. We are your leading provider of door installation and residential window services. Give us a call at (605) 341-7831 or fill out our contact form. We serve homeowners in Rapid City, SD and other nearby areas.