View Gallery
Be the Envy of Your Neighbors With Our French Patio Doors
Classy, Functional Doors From Renewal by Andersen®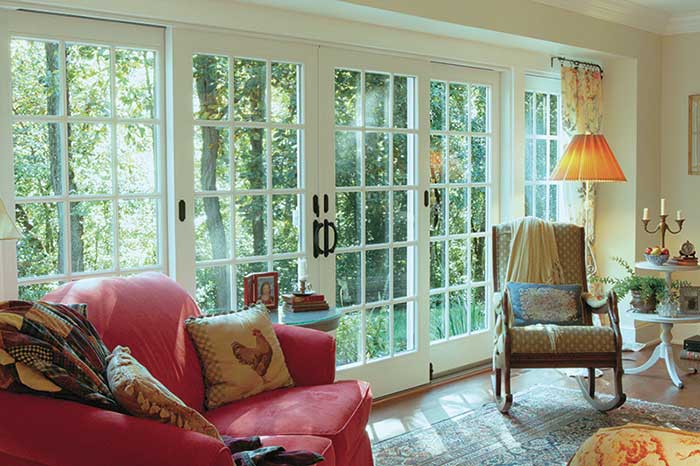 French patio doors elicit classic, historical beauty. These doors can really transform your space from simple to stylish. Renewal by Andersen® of Rapid City offers Andersen® patio doors, which are available in a variety of styles, finishes, stains and grille patterns.With grid style windows, our French doors are designed to provide your home with an elegant, almost throw-back look. You can select from a wide variety of grille options to ensure that your new doors match your home's aesthetics.
Our French-style doors are available in either a contemporary sliding glass option or the classic hinged. We promise that these doors will be easy to operate and be beautiful for many years. Further, we guarantee that our doors are designed to stand up to your local climate.
Performs even in the toughest climates: No matter the climate, your doors will perform flawlessly.
Designed with energy efficiency in mind: With an interlocking design and advanced weatherstripping, your home will remain draft-free, and your energy bills won't rise.
Sturdy construction: You need your home to be secure, and with other companies, your patio doors could be a weak spot. Our doors have multiple locking points for added security.
Eliminate the Periodic Maintenance
One of the most challenging issues with any exterior hardware is that it will often fade or crack as it ages or succumbs to the weather. With Andersen doors, however, you can rest assured that maintenance will be a breeze. Our patio doors are made from our exclusive Fibrex® material, which is guaranteed not to blister, rot or fade. No more scraping and painting after only a couple of years. Even our sliding doors have a track that will operate smoothly every time you use them.
If you ever experience any issues, we offer advanced limited warranties on all our products. If you do have an issue with the product or installation, please contact us and we'll take care of it.
Schedule a Free, In-Home Consultation With One of Our Designers
Beautify your home and improve its functionality and efficiency with new patio doors. We are proud to serve residents in Black Hills and Western South Dakota including Spearfish, Custer, Hot Springs, Wall, Murdo, Pierre and everywhere in between! We offer free, in-home consultations so we can really get to know you and your needs, and create a product that perfectly fits your home and its unique requirements. Get started today. Call us at (605) 341-7831, or you can fill out our online form.