Improve the Look of Your Home With Quality Replacement Windows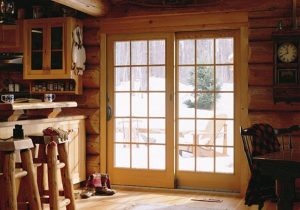 With any home improvement project – such as a home remodel or replacing your sliding windows or patio doors – the experience of the company you hire matters. For over 100 years, Renewal by Andersen® has been helping homeowners find and install the best replacement windows for their particular needs. Our experience speaks for itself, since we have installed over four million windows in over 600,000 homes around the country.
What Sets Us Apart
Most homeowners only do a window replacement once. At Renewal by Andersen, we understand this. That's why we've designed windows and doors that are created to last a lifetime. Constructed with durability in mind, our windows are manufactured from Fibrex®. This proprietary material offers the beauty of wood with the durability of vinyl. It's also extremely low-maintenance. Durability tests have shown that this material can last for decades since it will never pit, corrode, crack or rot. Imagine never having to sand, stain or paint your windows again!
Beyond that, our windows will look great from the day they are installed and for many years to come. Plus, Renewal by Andersen windows are created with energy efficiency in mind. With so many homeowners interested in reducing their carbon footprint, our windows can increase your chances of creating a more sustainable home.
Our glass packages are designed to reduce indoor energy use and reduce your overall energy bills. For example, the High-Performance™ Low-E4® SmartSun™ glass package can block up to 95% of ultraviolet (UV) rays. UV rays have the power to cause your furniture and paint to fade over time. Our windows can also help reduce sound penetration, which can be especially helpful if you live near a busy street or
Improve the Look of Your Home With Quality Replacement Windows
Your windows light your home and provide fresh air when your interior space is a little stuffy. However, windows can become drafty and worn as time goes on – more than a simple paint or stain job can fix. You might notice drafts or cold air seeping indoors, affecting your interior comfort and energy bills.
When the time comes that your windows don't function or look like they used to, it's time to invest in a window replacement project from Renewal by Andersen® of Rapid City. We offer energy-efficient replacement window options that can fit any home style.
Our Custom-Made Window Options
If you've been shopping for windows for a while, you might have noticed that many companies only have a handful of window options. While some of these may work for your space, they may not seem like the "best fit". This is where Renewal by Andersen is different. We offer a wide variety of options to fit any preference or style. You can choose from the following types of windows:
As part of our installation services, we custom-fit the windows to match your exact openings to within 1/16 of an inch. This ensures that the windows will be as energy-efficient as possible. Our windows are available in many different designs and colors, which guarantees that you'll always find one that will work perfectly with your décor.
Our windows come with energy-efficient features to reduce indoor energy consumption, including our High Performance™ Low-E4® SmartSun™ glass, which is 70% more energy-efficient in summer and 49% more efficient in winter than standard dual-pane glass. Further, our windows feature our proprietary Fibrex® material, a durable, composite framing material that helps keep your home better insulated than other options on the market.
Get a Free Quote on Your Next Window Replacement Project
If you're ready to replace your unsightly or poorly functioning windows with better ones, then turn to the trusted name in the business: Renewal by Andersen of Rapid City. For decades, we have been helping homeowners like you find the perfect replacement windows for their properties.
We offer free in-home, no-hassle estimates, and we serve homeowners throughtout the Black Hills and Western South Dakota. Don't wait until your energy bills become too expensive. Get started today by calling us at (605) 341-7831 or by filling out our online form. We look forward to learning about your needs. in a downtown area.