Renewal by Andersen: The Quality Replacement Door & Window Company
Serving Homeowners Within a 100-Mile Radius of Rapid City, SD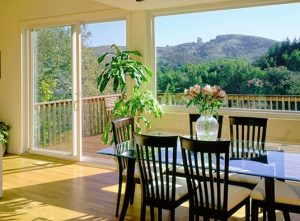 Your windows and doors are two components that keep you secure and prevent energy from escaping from your home. When these items start to fail, it's important to turn to a professional door and window company that has the experience to not only do the installation, but also provide you with the highest quality products available.
As the door and window replacement arm of the 100-year-old Andersen® Corporation, Renewal by Andersen® of Rapid City was created to help redefine the window replacement industry and to help homeowners once again have faith in home improvement contractors. Since our inception, we've worked hard to ensure that our customers are always 100% satisfied with our services. In fact, our Renewal by Andersen Signature Service is designed to ensure the best customer service experience.
What Is Our Signature Service?
Our Signature Service offers several benefits to our customers. These include:
Professional Installation: We guarantee that your installers are fully trained and are expert installers.
Cost Savings: Our windows are ENERGY STAR® certified, which means that they can reduce your energy consumption, resulting in lower heating and cooling costs.
Super Performance: Our windows are built with our exclusive Fibrex® material. This durable material is designed to last longer and be stronger than vinyl.
Hassle-Free Process: Since Renewal by Andersen handles both the creation and installation of the windows, you never have to work with a third party at any point during the process.
Long-Term Value: We promise that your windows will stay beautiful, durable and energy-efficient for years to come.
True Beauty: We know that not everyone is going to like the same style. That's why we have a plethora of colors, styles and grilles from which you can choose.
Add to this the fact that we have installed over four million windows in over 600,000 homes, and you know that you are dealing with true professionals who will always give you what you both want and need.
Get a Free Estimate Today
With Renewal by Andersen of Rapid City, you'll get a streamlined process – from design to manufacturing to installation – and the best, most efficient windows that you could ever desire. You'll only have to deal with one point of contact if something goes wrong or if you have any questions. Schedule a free estimate today to learn more about how we can assist you. Contact Renewal by Andersen now by calling us at (605) 341-7831 or by filling out our online form. Get the service and the products that you deserve.