Installing Energy-Efficient Custom Windows for Hot Springs, SD, Residents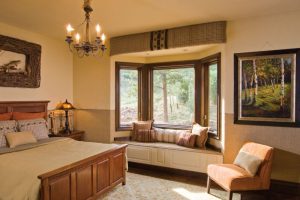 We're the Window Company Redefining the Industry
Since 1995, Renewal by Andersen® has been helping homeowners with all their custom windows needs. We are the window replacement arm of the 100-year-old Andersen® Corporation, a company known for its quality replacement windows. Andersen Corporation saw the need to improve the window installation process and stepped up to create a better window and door replacement experience.
Since opening our first store in Minnesota, we have branched out into more than 100 markets throughout the U.S. While we are one of the biggest replacement windows companies around, we have never forgotten that our true goal is to ensure that homeowners truly love their interactions with us and their windows and patio doors.
Over the years, we've installed over four million windows on over 600,000 homes. Any installer who represents us has been trained on our windows and how to properly perform the window replacement process. This means that you will be completely content with our installers and your windows every time.
What Makes Our Windows Special
Everyone has criteria as to what makes a window "great." Most of these include energy efficiency, low maintenance, durability and aesthetics. When you select a Renewal by Andersen window, you can be assured that our windows will meet and exceed any criteria that you have for your custom windows.
All our windows are ENERGY STAR®-certified to ensure that you home stays more comfortable and that you reduce your overall carbon footprint. Our Fibrex® material is made from reclaimed wood fibers that help with insulation. Plus, it's designed not to suffer the ravages of time like other materials, eliminating the need to frequently scrape and repaint it.
This material is also weathertight and can withstand extreme temperatures. A 20-year durability study showed that our windows still performed as well 20 years later as when they were first installed. Fibrex is also extremely strong, which means that we can create narrower frames. So, you get more glass and better views. Add to this our extremely energy-efficient glass packages, and you'll find the perfect window every time.
Schedule Your Free Consultation Today
If it's time to replace your windows or patio doors, then turn to the window company who has the most experience in the industry, Renewal by Andersen of Rapid City. Our services always begin with a free, no-hassle consultation, allowing you to get to know us and so we can do some measurements and listen to your ideas. Let's get your project started today. Call us at (605) 341-7831, or fill out our online form.