View Gallery
Increase the Beauty of Your Home With Picture Windows
Superior Installation by Western South Dakota's Expert Window Contractor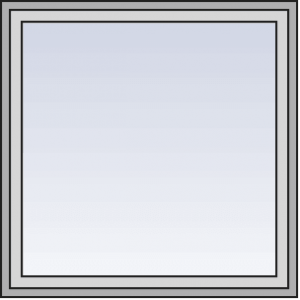 Picture windows allow you to effectively bring the outdoors into your home. These large glass windows provide expansive views of nature. They are perfect for letting light into your home, especially in hard-to-reach areas like in areas with high walls. These are some of the most energy-efficient windows on the market since they don't open. You can pair them with operating windows – such as casement or double hung – if you'd like to be able to let in some fresh air. These windows by themselves, however, add a dramatic look to any home.
Picture windows feature a narrower frame to maximize the views. Yet, all our windows are still extremely energy-efficient. You get all the beauty without the additional rise in energy costs.
Renewal by Andersen® of Rapid City, your local window contractor, has been creating and installing picture windows for decades. We are proud to serve homeowners throughout the Rapid City area, and we offer free estimates on our products and services.
Why Our Windows Are the Best
Off-the-shelf windows may seem like a good choice. They're typically cheaper, and you can walk into the store and just find one that you love. While this may seem simple and straightforward, you may actually be setting yourself up for issues. The window openings in your home aren't typically one size fits all. This means that the windows you purchase may not exactly fit your openings, and they may not be the highest quality. This increases the chances of reduced energy efficiency and premature failing.
Renewal by Andersen windows, on the other hand, are made from the highest-quality materials and are designed for energy efficiency. Our Fibrex® material provides both superior strength and the insulating qualities of wood. They are designed not to rot, pit or crack, making them extremely low maintenance. Our glass packages are also some of the most energy-efficient on the market, effectively increasing overall efficiency throughout the year.
Beautify Your Home Now
Picture windows can make Mother Nature the center of your home. If you're interested in learning more about these or our other window options, then schedule a free estimate. We service residents throughout Rapid City, Custer, Martin, Hot Springs and Spearfish, SD. As part our free in-home estimate, we will listen to your needs, do some measurements and inspect the area. Our goal is to ensure that you are 100% satisfied with your new windows. Schedule your consultation by calling Renewal by Andersen at (605) 341-7831 or filling out our form.