View Gallery
Double Hung Replacement Window Services in Rapid City
The Classic Choice With a Modern Twist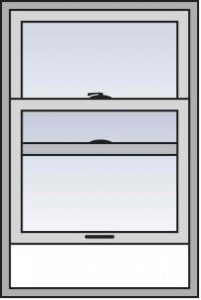 Double-hung windows are one of the most popular window styles for homeowners. Part of the reason is that they can seamlessly fit in with any architectural style – whether it's a historic home or a contemporary one. The double hung is an extremely versatile window that can be paired with other types of windows, including picture windows. This window combines functionality and beauty into one cohesive whole. It comes with two check-rail options and is offered in a wide range of colors and styles.
Another benefit of this window is that you can open both sashes, allowing you to maximize ventilation. When you open both sashes, hot air will escape through one of the sashes while the other directs fresh air into your home. Since these windows don't protrude, you can place them nearly anywhere – over patios, walkways or other spaces where there's limited opening space. Plus, they tilt inwards ensuring that you can easily clean them.
Renewal by Andersen® of Rapid City, the premier window contractor in the area, is proud to offer this versatile and elegant window for residents throughout the Black Hills and Western South Dakota.
Why We're the Only Company You Should Use
It only takes a few minutes doing some research to show you that there are endless choices when it comes to windows and doors. So, how do you figure out which replacement window options are best and which window contractor you should hire? Reputation and longevity are what separate one company from another.
Renewal by Andersen is the window replacement arm of the 100-year-old Andersen® Corporation, the most-recognized brand of windows and patio doors. We offer custom-made windows and doors to ensure an exact fit every time. If you buy products off the shelf, there is no guarantee that they will completely match your opening. This leaves tiny gaps, which reduces overall energy efficiency. Add to that a contractor who isn't completely versed in the products, and you increase your chances of poorly installed and non-efficient windows. Renewal by Andersen – we not only create the windows; we also install them.
Get a Free Estimate
If you're interested in learning more about our double-hung units, please reach out to us so we can schedule a free in-home, no-hassle consultation. One of our experienced designers will come to your home, listen to your needs, inspect your space and provide you a comprehensive, honest estimate. Get your project off the ground today by calling us at (605) 341-7831, or you can contact us online by filling out our form.