One of the first options that you will encounter when planning replacement window installation is double hung windows. As this is one of the most versatile window types out there, it is usually recommended by home designers and window replacement contractors. To find out if double hung windows will suit you, it will help to learn more about their benefits.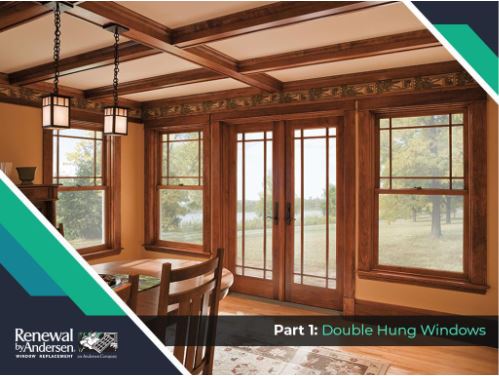 What Double Hung Windows Offer
Double hung windows are a favorite in American homes, and for good reason, thanks to these benefits:
They are aesthetically versatile. Double hung windows are easily compatible with most home architectural styles. They can be made to look traditional with the help of muntins, grilles and classic color patterns, but they can also look contemporary or modern by sticking to unobstructed glass. They also come in a wide variety of frame sizes and colors to match your home's architectural style.
They are easy to clean and maintain. If you're worrying about double hung window repair, you'll be glad to know that this type of window is very easy to maintain. New double hung replacement windows typically have tilt-in sashes, making them very easy to clean. Buying high-quality double hung windows from reputable manufacturers also mean that you are guaranteed with durable products that are bound to last long even without a lot of upkeep.
They are air conditioner- and window screen-friendly. Unlike other window styles, double hung windows can readily accommodate air conditioners and screens, with sashes sliding up or down instead fo swinging out or sliding to the side.
They are energy-efficient. If you are considering picture window installation because they are known to be energy-efficient, you should also consider installing double hung windows. While picture windows are energy-efficient because they are designed to be inoperable, double hung windows are the same by promoting natural ventilation, easing cooling requirements for a home so your cooling system doesn't have to work doubly hard to keep you comfortable. This leads to energy savings as well down the line.
Easy to use and versatile in style, double hung windows can suit a wide variety of needs. They can also be customized, ensuring a perfect match with homes in Rapid City, SD and others.
Want other options? We've got more in store for you. In the next installment of this blog series, we will be talking about casement windows, another timeless window option. Read on for more!