If you are planning replacement window installation, you might think that you can only replace operable windows with the same or another type of operable window. Fortunately, this isn't always the case. If you don't necessarily need high ventilation in a certain area of the home but would love to let natural light and breathtaking outdoor views in, you can definitely consider installing a fixed unit like a picture window.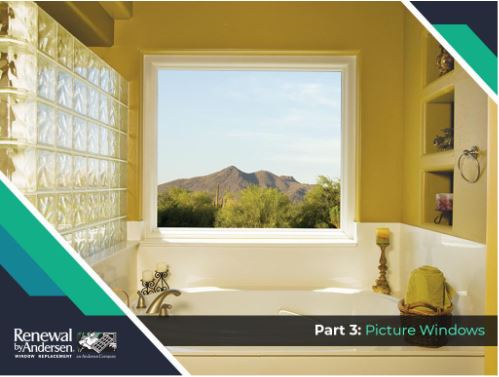 What Picture Windows Offer
Picture windows promise the following advantages:
They are cost-efficient. Picture window installation involves the use of less parts. This is because picture windows are  essentially only made up of frame and glass, and trims in some applications. As there are no mechanical parts, you won't have to worry about lifetime costs related to maintenance and repair.
They are the most energy-efficient type of window. Because they are inoperable, picture windows have fewer seams through which air leakage can occur, helping ensure indoor heat stays in and outdoor heat stays out. When made with low-emissivity (low-E) glass, they effectively block infrared heat, preventing excessive passive heating. cannot penetrate through the window glass. All these mean that a high-quality picture window will not contribute to heat loss in winter and heat gain in summer in Rapid City, SD and others.
They are the best choice for maximum natural lighting. If you want to brighten up a room but don't exactly need to ventilate it, then a picture window will be right up your alley. What's even better is that it can enhance a room's appeal further by meeting illuminating requirements to make the most of daylighting as it works with other components in the room.
Double hung, casement, and picture windows all offer benefits that are worth considering if you're looking to improve your home's form and function.. If you're having a hard time making a choice, don't hesitate to contact your trusted replacement window contractor. They can help you not only with double hung window repair or casement and picture window installations, but with choosing the perfect window type and style for your home as well.
| | | | |
| --- | --- | --- | --- |
| www.rbarapidcity.com | Renewal by Andersen of Rapid City | 341-7831 | 1665 Samco Rd., Rapid City, SD 57702 |