To ensure the success of replacement window installation, you need to look at all your possible options. If you're going for a practical, functional and efficient replacement window type, then you should consider casement windows. They are continuously gaining popularity among homeowners because of their numerous benefits, rivaling those of the more popular double hung windows.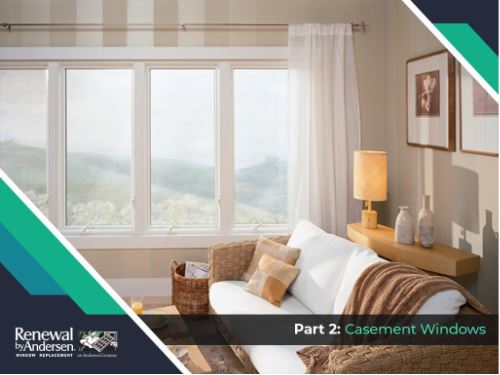 What Casement Windows Offer
Casement windows can conveniently cover all your needs, from form to function. Here are some of the reasons they could be a good fit for your home:
They offer a variety of design features. Many homeowners are unaware that casement windows actually come in different styles. These include flat top, top down grille, pushout, Colonial, Prairie and French. Casement windows can also be customized to meet specific size, color, and grille preferences while no-grille units are suitable for contemporary or modern homes.
They are the second-most efficient window. If you're thinking about picture window installation because they are the most energy-efficient window style, you should know that casement windows aren't far behind, taking the second spot overall. In fact, it is the most energy-efficient among operable types, designed to create an airtight seal when they are shut. You can further improve energy efficiency by opting for casement windows with low-emissivity (low-E) glass.
They are easy to operate. Casement windows are designed to open and close using a single lever or tandem-latches. You can easily open and shut them with just a turn of a crank. Because of this, casement windows are ideal for hard-to-reach areas, such as above kitchen sinks.
They offer excellent ventilation. If you are on the hunt for windows that provide maximum ventilation in Rapid City, SD, casement windows are a great option, opening wide to let in as much air to freshen up your indoor living spaces.
If you want operable windows that offer aesthetic versatility and energy efficiency, then casement windows are definitely a great choice. However, since they have moving parts, they will still require some level of maintenance. In time, this means dealing with issues that might need the same solutions as double hung window repair.
In the next installment of this blog series, we'll be talking about picture windows, a type of fixed window that offers a number of benefits sans the weakness of operable windows. Stay tuned!